FIGURATIVE LANGUAGE SEMANTIC ANALYSIS IN ADHITIA SOFYAN'S ALBUM "Forget YOUR PLAN"
Keywords:
Semantic, Figurative Language, Adhitia Sofyan's album "Forget Your Plans"
Abstract
Figurative language is part of the semantic. As we know that with semantic we can know the true meaning in a song. Figurative language is language which employs various figures as speech. This analyzes the figurative languages are used in Adhitia Sofyan's album "Forget Your Plansâ€. It is expected that the result of this study will be useful for the student of linguistics since this study is done based on the theory of Figurative Language. The benefit of figurative language and category used in this thesis is that the readers will comprehend that such theory can be used to give clearer and better understanding about the meanings of figurative language. Kind of figurative language was found in Adhitia Sofyan song selected songs lyric are paradox, metaphor, hyperbole, personification, rhetoric, allegory, repetition, and antithesis. Figurative language in the song could make the readers understand that the lyric of the song can describe massages that must be known by learning them deeply in terms of categories. This study attempts to provide a description about figurative language in human daily life. The type of data that is used in this study is a qualitative data. The data analyzed in this study are some written texts. The text discuss is song taken from Adhitia Sofyan's album "Forget Your Plansâ€. By these classifications, we can recognize well which one includes each figurative speech. The result of this study will be able to give contribution to the readers who are interested in learning
References
Anggito, A., & Setiawan, J. (2018). Qualitative research methodology. CV Jejak (Publisher Traces).
Arifah, K. (2016). Analysis of figurative language in the song Five John Legend. Maulana Malik Ibrahim State Islamic University.
Fitria, TN (2018). Figurative Language Used in One Direction's Untitled Album Up All Night. 01. https://papers.ssrn.com/sol3/papers.cfm?abstract_id=3527854
Gorys Keraf, D. (2009). Diction and Language Style. Main Library Gramedia.
Gunawan, I. (2013). Qualitative research methods. Jakarta: Earth Literacy, 143, 32–49.
Keraf, G. (1981). Diction and style: continued composition of I. Nusa Indah.
Keraf, G. (1984). Diction and language style: continued composition I. Gramedia.
Kreidler, CW (2013). Introducing the semantics of the English language, second edition. In Introducing English Semantics, Second Edition. https://doi.org/10.4324/978131586428
Leeches, GN 1979, Semantics. Auxland: The Wish Book.
McArthur, T., Lam-McArthur, J., & Fontaine, L. (2018). Oxford Companion for English. Oxford University Press.
Miles, MB, Huberman, AM, & Saldaa, J. (2014). Qualitative data analysis: A method source book. the 3rd. Thousand Oaks, CA: Sage.
Palmer, M. (1981). The Case for Rule-Based Semantic Processing. Proceedings of the 19th Annual Meeting of the Computational Linguistics Association, 125-131. https://doi.org/10.3115/981923.981958
Perrine, L. (1977). Sound and Feel: An Introduction to Poetry. Harcourt Brace Jovanovich.
Tarigan, HG (1985). Semantic teaching. Space.
Verhaar, JWM (2004). General linguistic principles. Gadjah Mada University Press.
Kennedy, XJ. (1983). Literature: An Introduction to Fiction, Poetry and Drama. Boston: Little Brown and Company
Reaske, CR (1996). How to Analyze Poetry. New York: King's Press.
Adityo, Dawn. "Adhitia Sofyan: "Forget Your Plansâ€, Beautiful Music From Bed." https://musik. Kapanlagi.com/resensi/indonesia/adhitia-sofyan-forget-your-plans-musik-indah-dari-place-tidur.html (accessed March 26, 2022)
Palmer, IR 1981, Semantics, Cambridge University Press.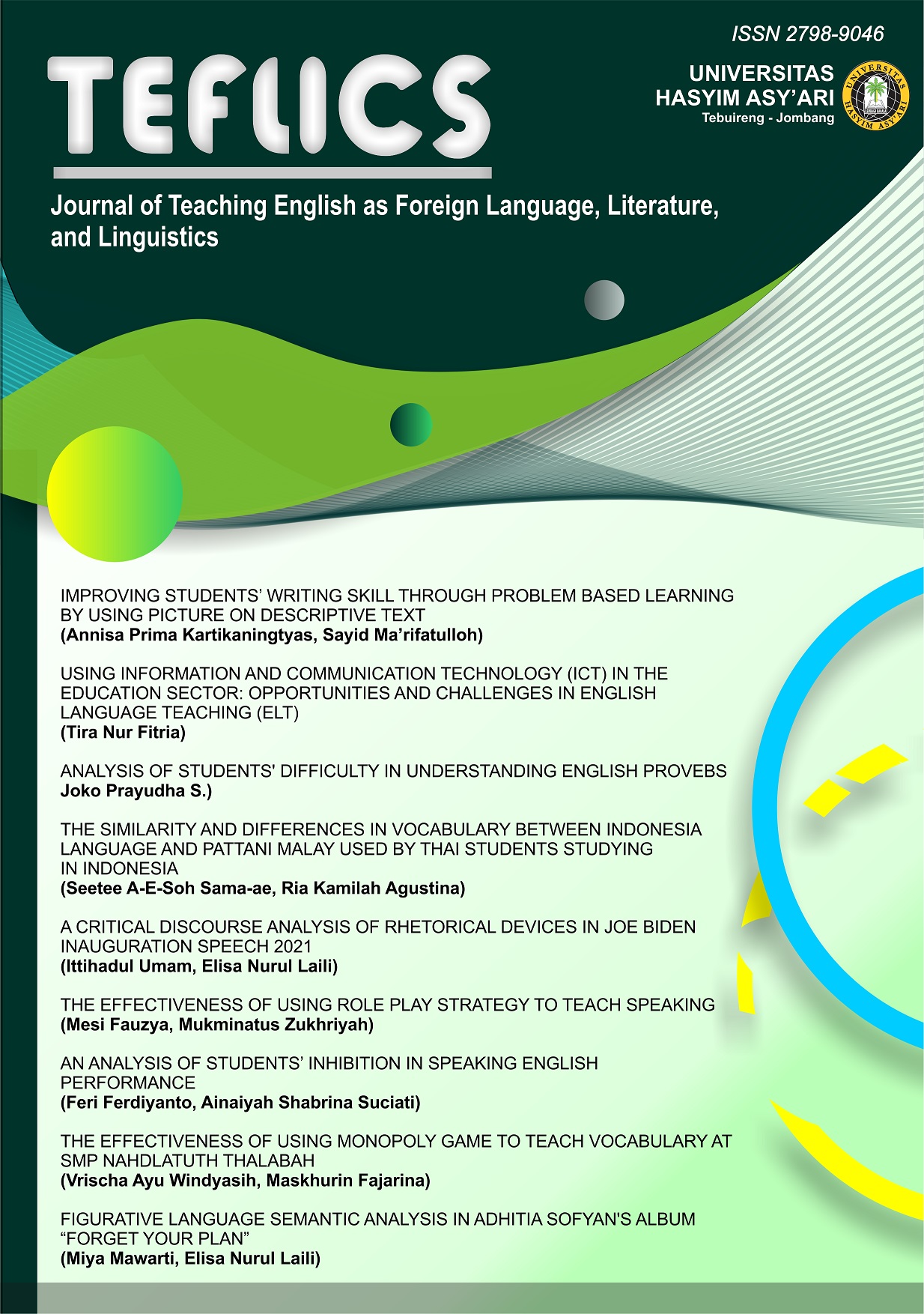 Downloads
How to Cite
Mawarti, M., & Laili, E. N. (2023). FIGURATIVE LANGUAGE SEMANTIC ANALYSIS IN ADHITIA SOFYAN'S ALBUM "Forget YOUR PLAN". Teaching English As Foreign Language, Literature and Linguistics, 3(1), 106–117. https://doi.org/10.33752/teflics.v3i1.4165