ANALYSIS OF STUDENTS' DIFFICULTY IN UNDERSTANDING ENGLISH PROVEBS
Keywords:
English proverb, difficulty
Abstract
Proverb is one of the oldest literary works in the world. Proverb contains messages, values, morals, and advice that can give meaning to life. Many students have difficulty understanding the meaning of a proverb, so the teacher needs to provide appropriate teaching regarding the meaning conveyed in a proverb. This study aims to analyze students' difficulties in understanding the meaning of English proverbs when studying English literature. The method used in this research is qualitative through a descriptive approach. Participants in this study consisted of 35 students who studied English proverbs in English literature class. Data were obtained through documentation, observation, and interviews regarding the difficulty in understanding the meaning of English proverbs. Data were analyzed through data reduction, data display, and conclusion. The results of the study show that students are still confused about explaining the implied meaning of a proverb. This is because knowledge about the pragmatic meaning and sociolinguistic meaning of figurative sentences is still low, so the teacher needs to explain in detail the implied meaning of a proverb. Then, so that students can better get the message conveyed, the teacher asks students to provide examples of these proverbs in everyday life so that the value or advice from a proverb can be used as knowledge in living life.
References
Cresswell. (2013). Research design: Qualitative, quantitative, and mixed methods approaches. Sage Publication.
Liando, N. V. F., Lasut, S. F., & Rombepajung, P. (2022). Students' perception on the use of vlog as learning media for efl speaking skill. Globish: An English-Indonesian Journal for English, Education, and Culture, 11(1), 1. https://doi.org/10.31000/globish.v11i1.5107
Miles, M. B., Huberman, A. M., & Saldana, J. (2013). Qualitative data analysis: A methods sourcebook. Sage Publications Incorporated. https://doi.org/https://doi.org/10.1080/10572252.2015.975966
Moran, P. (2001). Language and Culture. In Teaching Culture: Perspectives In Practices. Boston, MA: Heinle & Heinle.
Prayudha., J., S. &, & Solihah, N. M. (2023). The small group discussion to improve English communication skills. Proceeding International Conference on Religion, Science and Education, 835–839.
Prayudha., J., S. (2023). Students' opinion on the use of local destinations materials in improving English speaking skill. Proceeding of Dirundeng International Conference on Islamic Studies (DICIS 2022), 93–100.
Prayudha., J., S & Pradana, A. (2023). An analysis of students' difficulties in English conversation practice. JEEYAL: The Journal of English Teaching for Young and Adult Learner, 2(3), 215–222.
Suchona, I. J., & Shorna, S. A. (2019). Speaking problems in English and solutions: scrutinizing students' perspective. Shanlax International Journal of English, 8(1). https://doi.org/10.34293/english.v8i1.661
Sugiyono. (2014). Memahami Penelitian Kualitatif. Alfabeta.
Tajeddin, Z., & Teimournezhad, S. (2015). Exploring the hidden agenda in the representation of culture in international and localised ELT textbook. The Language Learning Journal, 43(2), 180–193. https://doi.org/https:/doi.org/10.1080/09571736.2013.869942
Zubaidi, Z., Suharto, R. P., & Rahayu, E. L. (2021). Improving students' speaking skill through students vlog project as PBL output on online speaking class. Briliant: Jurnal Riset Dan Konseptual, 6(4), 764. https://doi.org/10.28926/briliant.v6i4.757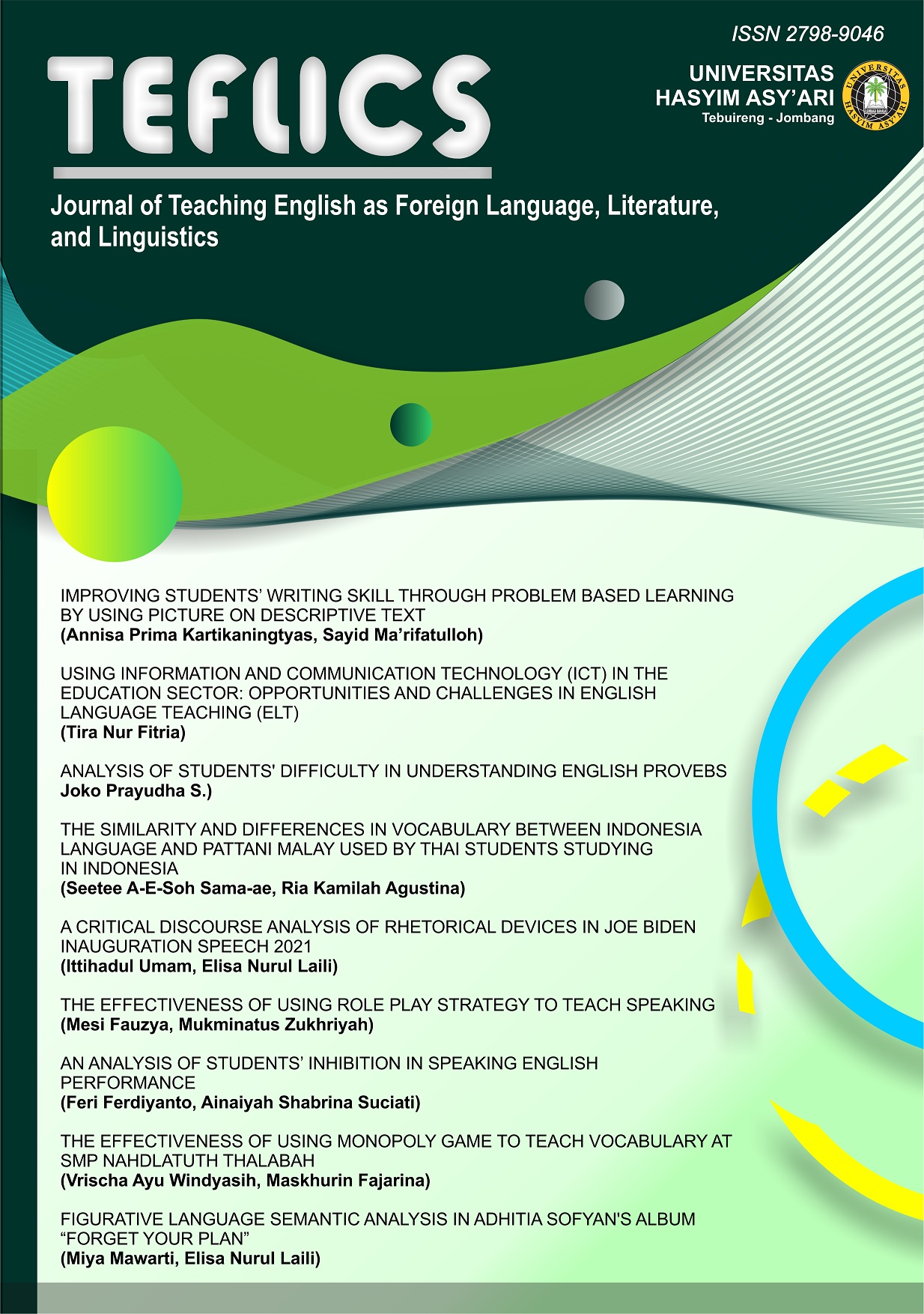 Downloads
How to Cite
Prayudha S., J. (2023). ANALYSIS OF STUDENTS' DIFFICULTY IN UNDERSTANDING ENGLISH PROVEBS. Teaching English As Foreign Language, Literature and Linguistics, 3(1), 31–39. https://doi.org/10.33752/teflics.v3i1.4097