Sensor Monitoring Suhu Komputer Berbasis Port Paralel Dengan Menggunakan Rangkaian IC LM35 dan ADC 0804
Hadi Santoso

Program Studi Teknik Mesin, Fakultas Teknik, Universitas Borneo Tarakan

Ilmawan Suryapradana

Program Studi Teknik Mesin, Fakultas Teknik, Universitas Borneo Tarakan
Abstract
Abstrak
Telah dibuat sensor suhu yang memanfaatkan IC LM35 dan ADC 0804 yang terkoneksi ke komputer yang
dapat mendeteksi dan memonitoring tingkat suhu dari komputer tersebut. Monitoring dilakukan dengan
memberi tiga tanda kondisi suhu komputer yakni Aman (suhu dibawah 50
C
hingga 70
o
C), Siaga (suhu antara 60
o
C). Ketiga kondisi dapat ditampilkan melalui layar komputer itu
sendiri sehingga memudahkan dalam memonitoringnya. hasilnya sonsor monitoring dapat bekerja dengan
baik sebagai. Hal ini sebagai salah satu cara perawatan komputer dari suhu overheat komputer yang dapat
merusak komputer itu sendiri.
Kata Kunci: Sensor pendeteksi suhu laptop/PC, monitoring suhu, IC LM35, ADC 0804

o
C) dan Bahaya (diatas 75
o
Abstract
Temperature sensors have been made that utilize IC LM35 and ADC 0804 which connected to a computer
that able to detect and monitor the temperature level of the computer. Monitoring is carried out by giving
three signs of computer temperature conditions which are: Safe (temperature below 50
C), Caution
(temperature between 60
o
C). All three conditions can be displayed
through the computer screen so Its easier to monitor. As the result, monitoring sensor operates well. This
is one way to maintain the computer from overheating that can damage the computer itself.
Keywords: Laptop / PC temperature detection sensor, temperature monitoring, IC LM35, ADC 0804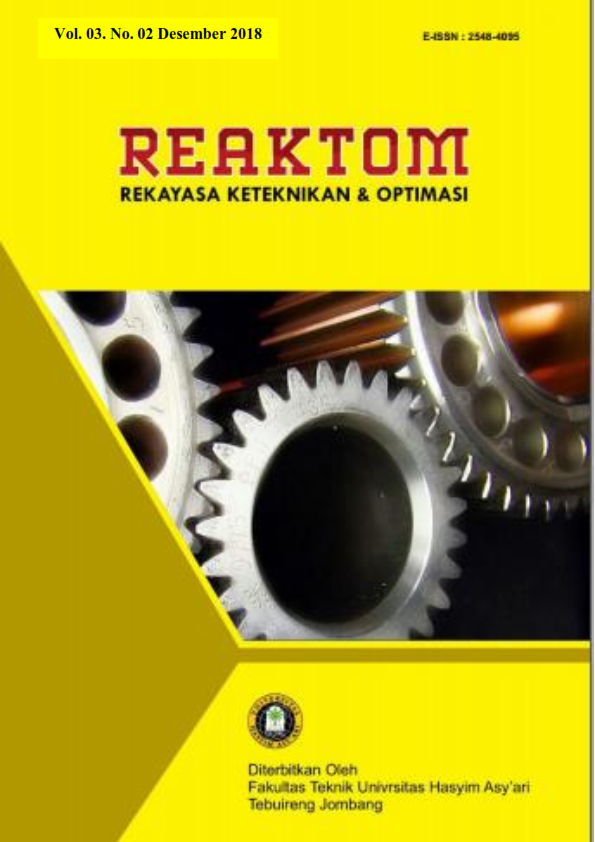 Copyright (c) 2019 Reaktom : Rekayasa Keteknikan dan Optimasi
This work is licensed under a Creative Commons Attribution-NonCommercial-ShareAlike 4.0 International License.