STRATEGI PENGEMBANGAN PRODUK BUBUK KEDELAI DENGAN ANALISA SWOT PADA CV. MAKARTI POMOSDA
Marta Monika

Program Studi Teknik Industri, STT POMOSDA Nganjuk

Agustin Sukarsono

Program Studi Teknik Industri, STT POMOSDA Nganjuk

Sumarsono -

Program Studi Teknik Industri, Teknik, Universitas Hasyim Asy'ari
Abstract
Abstrak
Dalam sebuah usaha pengembangan produk haruslah sesuai dengan tujuan yang diinginkan oleh
perusahaan. Sehingga konsumen akan selalu terpenuhi keinginannya dengan bentuk dan model produk
baru serta perubahan-perubahan seperti ciri khusus produk, mutu produk, tipe produk, dan ukuran produk
untuk kebutuhan dan keinginan pelanggan.Analisis SWOT adalah salah satu metode dalam mencari solusi
permasalahan perusahaan yang ada baik internal maupun eksternal. Analisis ini digunakan untuk
memaksimalkan kekuatan (Strengths) dan peluang (Opportunities), dan meminimalkan kelemahan
(Weaknesses) dan ancaman (Threats). Proses pengambilan keputusan harus sesuai dengan tujun yang
ingin dicapai oleh perusahaan..Dengan Memakai matriks IFAS dan EFAS dapat memetakan strategi
untuk pengembangan produk Kedelai Marasake sesuai dengan Visi Misi CV. Makarti untuk
meningkatkan daya saing bubuk kedelai marasake dalam lingkup luas tidak hanya jamaah saja, melainkan
juga di pasar global.
Kata Kunci : SWOT, Matriks IFAS EFAS, Makarti.
Abstract
In a product development business must be in accordance with the objectives desired by the company. So
that consumers will always be fulfilled by their desire with new product forms and models and changes
such as product specific characteristics, product quality, product type, and product size for customer
needs and desires. SWOT analysis is one method in finding solutions to existing company problems.
internal or external. This analysis is used to maximize Strengths and Opportunities, and minimize
Weaknesses and threats. The decision-making process must be in accordance with the goals that the
company wants to achieve ... Using matrix IFAS and EFAS can map out strategies for the development of
Marasake Soybean products in accordance with the Vision Mission CV. Makarti to increase the
competitiveness of marasake soybean powder in a wide scope not only worshipers, but also in the global
market.
Keywords: SWOT, IFAS EFAS Matrix, Makarti.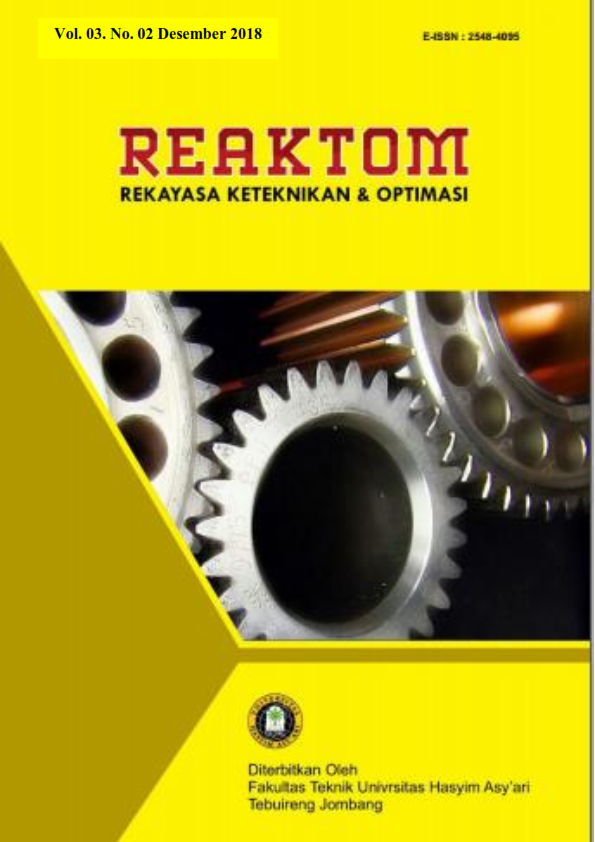 Copyright (c) 2019 Reaktom : Rekayasa Keteknikan dan Optimasi
This work is licensed under a Creative Commons Attribution-NonCommercial-ShareAlike 4.0 International License.