Rancang Bangun Kompor Biomassa Berbahan Dasar Plat Besi dan Beton Dilengkapi Dengan Teknologi Blower
Hadi Santoso

Program Studi Teknik Mesin, Fakultas Teknik, Universitas Borneo Tarakan

Heppi Iromo

Program Studi Budidaya Perairan, FPIK, Universitas Borneo Tarakan
Abstract
Abstrak
Telah dibuat kompor biomassa berbahan bakar kayu untuk dimanfaatkan oleh penggiat UKM yang
bergerak dibidang pengolahan rumput laut untuk dijadikan berbagai makanan ringan. Kompor dibuat dari
plat besi 2 mm dengan dimensi 30 cm x 30 cm x 40 cm sehingga dapat menampung bahan bakar yang
banyak dan tidak mudah habis. Ruang dalam kompor dilapisi dengan beton dari cor semen dengan
ketebalan mencapai 5 cm. Kompor ini menggunakan tambahan teknologi blower dari kipas angin untuk
membantu proses nyala api, pembakaran dan arah api. Hasilnya kompor biomassa ini mampu digunakan
untuk memasak dodol mencapai 5 jam.
Kata Kunci: Kompor Biomassa; Bahan Bakar Kayu, Plat Besi, Blower.

Abstract
Wood-based biomass stoves had been made to be used by UKM entrepreneurs engaged in the seaweed
processing into variety of snacks. The stove was made of 2 mm iron plate with dimensions of 30 cm x 30
cm x 40 cm so that it can accommodate a lot of fuel and is not easy to run out. The space in the stove was
coated with concrete from a cement which is up to 5 cm thick. This stove used additional blower
technology from the fan in order to help the flaming process, combustion and the direction of fire. The
result is that this biomass stove can be used to cook dodol for up to 5 hours.
Keywords: Biomass Stove; Wood Fuel, Iron Plate, Blower.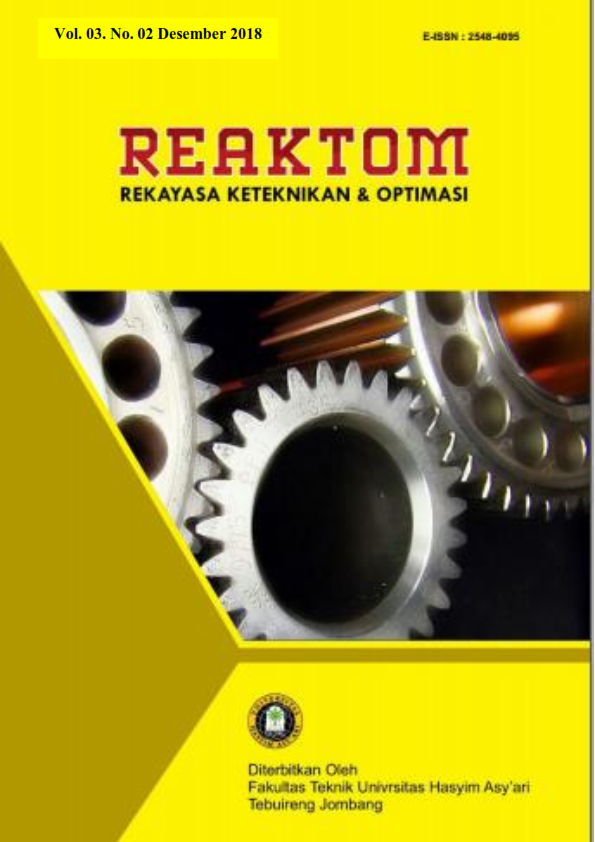 Copyright (c) 2019 Reaktom : Rekayasa Keteknikan dan Optimasi
This work is licensed under a Creative Commons Attribution-NonCommercial-ShareAlike 4.0 International License.