PERILAKU BALOK BAJA I BUILT-UP
Titin Sundari

Teknik Sipil Fakultas Teknik Universitas Hasyim Asy'ari
Abstract
Abstrak
Balok adalah komponen struktur lentur yang memikul beban gravitasi, beban gravitasi ini berupa beban mati dan
beban hidup yang bekerja tegak lurus dengan sumbu longitudinal balok. Salah satu bentuk balok yang efisien
adalah balok profil I yang dibentuk dengan pengelasan atau yang dikenal dengan sebutan balok baja I built-up.
Dalam penelitian eksperimental ini, balok baja dibuat dengan memotong lembaran pelat baja menjadi elemenelemen
pelat sayap dan pelat badan dengan menggunakan pengelasan sehingga membentuk suatu balok baja
profil I (balok baja I built-up). Sedangkan konstruksi balok yang digunakan adalah konstruksi balok sederhana
(simple beam) dengan beban terpusat di tengah bentang. Penelitian ini bertujuan menganalisis kapasitas lentur
dan mengetahui perilaku tekuk balok baja I built-up. Hasil dari ekeperimen ini dibandingkan dengan perhitungan
sesuai SNI 03-1729-2002 dan validasi dengan menggunakan software ANSYS.
Dari penelitian ini didapatkan kapasitas lentur beradasarkan eksperimen lebih tinggi dibanding dengan SNI 031729-2002
dan
ANSYS.
Sedangkan
keruntuhan
yang
terjadi
adalah
keruntuhan
tekuk
torsi
lateral.
Kata
kunci
:
built-up,
momen
kapasitas,
tekuk
torsi
lateral

Abstract
Beam is a structural member that carries a dead load or live load that works perpendicular to its longitudinal axis
is beam. One form of an efficient beam is a beam profile I which is formed by welding or known as I built-up
beam.
In this experimental study, the steel beam is made by cutting the sheet of steel plate into wing plate elements and
body plate by using welding to form a steel profile I (steel beam I built-up). The construction of beam is used a
simple beam with concentrated load in the middle of the span. This study aims to obtain bending capacity and
know the buckling behavior of I built-up steel beam. The result of this experiment is compared with the
calculation according to SNI 03-1729-2002 and validation using ANSYS software.
From this research, the bending capacity based on experiments is higher than that of SNI 03-1729-2002 and
ANSYS. While the collapse that occurs is the collapse of lateral torsional buckling.
Keywords : built-up, bending capacity, lateral torsional buckling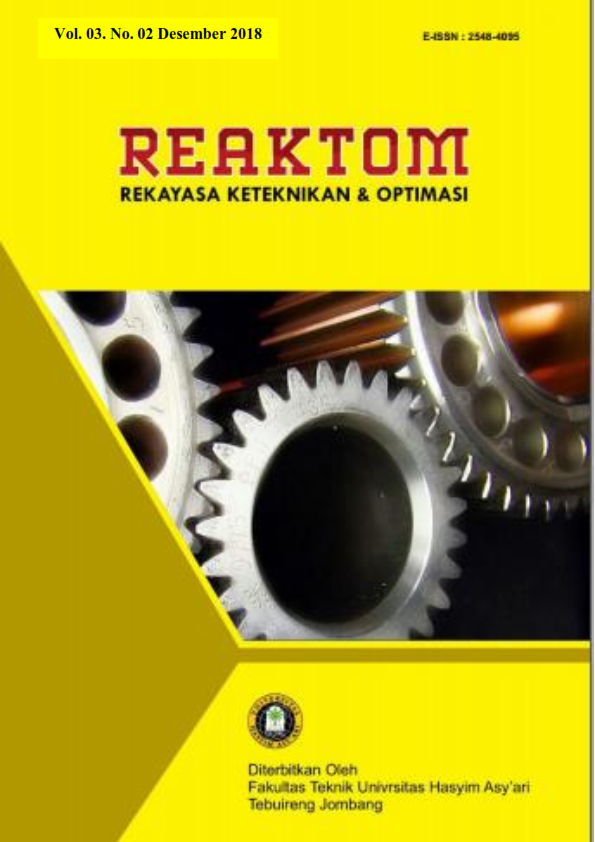 Copyright (c) 2019 Reaktom : Rekayasa Keteknikan dan Optimasi
This work is licensed under a Creative Commons Attribution-NonCommercial-ShareAlike 4.0 International License.