ANALISIS DAMPAK SHARING KNOWLEDGE DALAM MENINGKATKAN KUALITAS PRODUK INDUSTRI KREATIF
Maskarto Lucky Nara Rosmadi

Program Studi Manajemen, STIE Kridatama Bandung
Keywords:
Berbagi Pengetahuan, Kualitas Produk, Industri Kreatif
Abstract
Abstract: Creative industry is another alternative in improving the welfare of society and supporting the national economy. Various types of creative industries are growing in line with government support through the national creative economic council. Limited quality of human resources becomes the main obstacle in producting quality of production. One effort to improve the production of creative industries is through the sharing of knowledge among business actors. The research method used is qualitative research method with descriptive approach type, meaning data obtained describes or ezplains in such a way that then done analyzing while data collection techniques consist of primary data and secondary data (bibliography). With the sharing of knowledge, obtained data can increase production both in quality and quantity. The role of local government in providing training and counseling is expected to improve the quality of business actors in developing their products.
Key Words: Sharing Knowledge, Product Quality, Creative Industry
Abstrak: Industri kreatif merupakan alternatif lain dalam meningkatkan kesejahteraan masyarakat dan pendukung perekonomian nasional. Berbagai jenis industri kreatif tumbuh sejalan dengan dukungan pemerintah melalui dewan ekonomi kreatif nasional. Keterbatasan kualitas sumber daya manusia menjadi kendala utama dalam menghasilkan kualitas hasil produksi. Salah satu upaya untuk meningkatkan hasil produksi industri kreatif adalah melalui berbagi pengetahuan diantara para pelaku usaha. Metode penelitian yang digunakan adalah menggunakan metode penelitian kualitatif dengan jenis pendekatan deskriptif, maksudnya data yang diperoleh menggambarkan atau menjelaskan sedemikian rupa yang kemudian dilakukan penganalisaan sedangkan teknik pengumpulan data terdiri dari data primer dan data sekunder (kepustakaan). Dengan adanya berbagi pengetahuan, diperoleh data dapat meningkatkan produksi baik secara kualitas maupun kuantitas. Peran pemerintah daerah dalam memberikan pelatihan dan penyuluhan sangat diharapkan untuk meningkatkan kualitas pelaku bisnis dalam mengembangkan hasil produksinya.
Kata Kunci: Berbagi Pengetahuan, Kualitas Produk, Industri Kreatif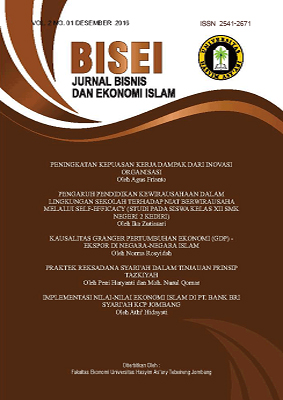 Copyright (c) 2018 Bisei : Jurnal Bisnis dan Ekonomi Islam
This work is licensed under a Creative Commons Attribution 4.0 International License.